Out with the old way of heating and cooling your home, and in with the new!
That's what our client decided to do when it was time to replace her old inefficient heating, ventilation, and air conditioning system.
Our client, who lives in a 1950s, 832-square-foot home in Old Town Alexandria, requested an estimate to replace her HVAC system with a ductless mini-split.
She knew there had to be a better solution to heating and cooling her home. After doing her homework, she decided on a ductless mini-split heat pump system rather than the traditional central air HVAC system.
She called our M.E. Flow Alexandria location to set up a free, no-obligation, in-home estimate and met with John, a professional home comfort adviser. John agreed that she had made the right decision on going ductless — it was the perfect application for her home in Alexandria.
M.E. Flow has installed many of these ductless mini-split systems in the Old Town Alexandria area.
Here are some of the advantages this homeowner will get by switching to a ductless mini-split:
Additional space: With only 832 square feet, this three-level home had limitations on space. When the ductwork and old furnace were removed, extra room/space became available.
Energy and money savings: With ductless systems, you could use 25% to 50% less energy to heat and cool your home.
Improved comfort: There will no longer be cold and hot spots throughout the room. Each room also has an individual controller.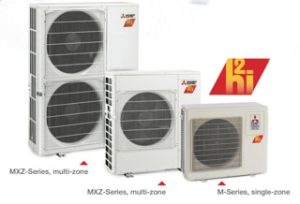 By choosing M.E. Flow for the purchase and installation of your ductless mini-split system, the homeowner will get a 12-year warranty on parts and a 12-year warranty on the compressor.
Check out the before and after photos of this HVAC system replacement. The mini-split is a multi-port that supports the four wall units installed in the home. A wall unit was mounted in the finished basement, primary bedroom, kitchen, and living room area.
Looking for costs to replace your heating system with a ductless unit?
Contact M.E. Flow today or call (571) 350-3183 for a no-obligation quote.
M.E. Flow specializes in HVAC replacements, and our service area includes all of Northern Virginia and portions of West Virginia too!

Go ductless! Go with "The Flow!"
Learn more about how a ductless system works.