"Always courteous and professional - maintenance appointments are prompt and easily scheduled."

- Jon L.
More Reviews
Get the Badge of Protection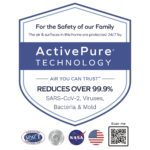 Give your home, or business added protection against airborne and surface contaminants. ActivePure is Trusted, Effective, Proven and Certified. Learn more here.
Download Your Window Badge Here
ActivePure Technology has origins in the NASA Space Program and is highly effective at destroying viruses like the COVID-19 virus.
The Air Scrubber is an indoor air purification system proven to clean, deodorize and purify the air in your home. Destroys up to 99.9% of all surface and airborne contaminants, including bacteria and viruses. It helps eliminate indoor air quality risks by reducing air pollutants, chemical odors, cigarette smoke, dust, pollen, mold, odor-causing bacteria, and odors caused by pets and cooking. This technology is installed directly into your HVAC system and works to protect your family and your home, and it will even extend the life of your existing HVAC equipment.
$59
A/C System Tune-Up
Price per system. Additional terms and conditions may apply, call for details.
Valid from May 15, 2023
- Oct 31, 2023
Print Coupon
Is The Air Scrubber Right For Your Home?
The Air Scrubber Plus is easily installed by your NATE certified M.E. Flow technician during a service call or system tune-up. Our customers love knowing that the Air Scrubber is:
Made in the USA
Tested & Mommy Approved
Certified Space Technology
100% Satisfaction Guaranteed
30-Day Money Back Guarantee
Fast & easy to install
Attaches directly to the HVAC system ductwork to remove air pollution, VOCs, surface contaminants, pet dander, odors and dust, resulting in a cleaner, healthier and more efficient home. Also, extends the life of your HVAC system by trapping dirt, dust and other debris before it enters through the filter, damaging the coils and blower the keep your system running effectively.
AP3000
–Portable whole home/office system.
AP500
–Wall Plugin – Covers up to 500 sq. ft (perfect for dorm rooms)
Contact M.E. Flow Today
Servicing All Brands
Our team is here to answer your questions. Contact us today at (571) 350-3183or complete the form below.