When it was time for our client in Herndon, Va to replace their aging and failing 80 gallon electric water heater they went with this 80 gallon heat pump water heater by Bradford White. Not only is the new water heater an Energy Star qualified water heater— it exceeds the Energy Star standards and provides year-round energy and money savings.
With this Bradford White heat pump/ hybrid water heater the owner has several operational modes to choose from. It can operate in heat pump mode, hybrid mode, Electric only, and vacation mode.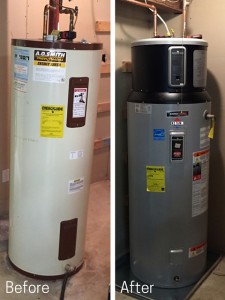 The replacement water heater was installed in the basement of the home. In addition, to the water heater being installed a safety pan, thermal expansion tank and a condensate pump was installed.
Learn more about how a heat pump water heater works by visiting the energy.gov website. Have questions about the cost of installing a heat pump water heater compared to an electric water heater? Contact M.E. Flow today by filling out the form on this page or calling us at (571) 350-3183 and ask to speak to a water heater specialist. M.E. Flow specializes in water heater replacements and the service area includes all of Northern Virginia and portions of West Virginia too!
Purchase a Bradford White water heater from factory trained and authorized dealer M.E. Flow.
The post Herndon Home Replaces Electric Water Heater With a Heat Pump Water Heater appeared first on M.E. Flow.