Clean your clothes without the use of laundry detergent?
Would your clothes really get clean? And how much money could you save If you never had to purchase laundry detergent again?
Here is another way to save some cash this year…
A way that will get your clothes clean and eliminate the cost of washing with hot water, using detergent, bleach, and fabric softener. You may be skeptical, like I was. So, how do I know this laundry appliance works…
The maker of the popular Air Scrubber came to us here at M.E. Flow with a new product called The Laundry Pro, that promised to provide a fresh approach to the way we do laundry. Knowing how popular the Air Scrubber is with our customers I wanted to try it. I had a Laundry Pro installed / connected to my washing machine back in August of 2015. Here we are in 2016 and to date I have not purchased any laundry detergent and I love my Laundry Pro.
Here are a few facts about the Laundry Pro:
No need for detergent
Clothes come out softer
Easy to use
Eco-friendly– no bottles, boxes, or buckets to throw out each month
Better for sensitive skin
Whiter whites, brighter colors
Made in the USA
I found that doing laundry with the Laundry Pro is easy…you simply load the washer, keep the water temperature setting at cold, and start your wash. Although, the money I save from not having to purchase detergent is great–what I like best is not having to add the big bulky bottles of detergent to my shopping cart. Not to mention the earth friendliness of no bottles, or boxes to dispose of out each month.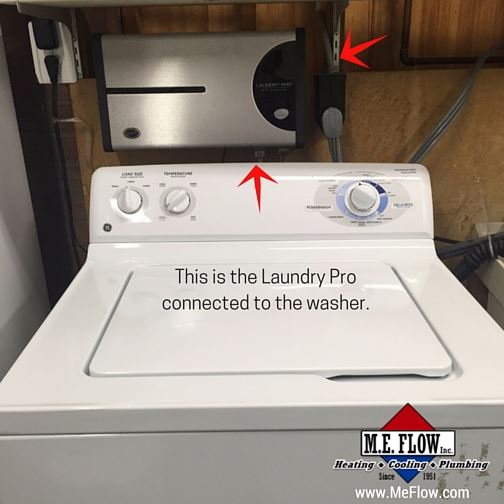 The Laundry Pro, just like the Air Scrubber, is lab tested, mom approved, and it comes with a 100% Satisfaction Guarantee! If you're interested in never having to purchase laundry detergent again, take a look at the new plumbing appliance offered at M.E. Flow, the Laundry Pro.
What to purchase a Laundry Pro? M.E. Flow is an authorized dealer of the Laundry Pro and will have a professional plumber install one for you today! Call your Northern Virginia plumbing professional, M.E. Flow, today at (571) 350-3183 or fill out the quick form on this page and we'll call you!
Call M.E. Flow today to get your Laundry Pro installed! (571) 350-3183
Thanks for reading! Want to read more articles like this? Sign up here for our email list. Once a month you'll receive our latest newsletter filled with quick tips, solutions to many home comfort problems, and you'll be the first to hear about exciting special offers and customer promotions.
The post Get Clean Clothes Without Using Laundry Detergent appeared first on M.E. Flow.