No room for ductwork? Maybe it's time to rethink your heating and cooling system and replace it with ductless!
That's what our heating and air conditioning client did in Leesburg. Our ductless installation team returned to the Leesburg home (mentioned in the prior blog post) and installed the remaining wall-mounted interior units while preparing the old central heating and air conditioning system to be removed.
In our prior blog post, we shared the first phase of this ductless mini-split installation and how the client reached out to M.E. Flow for a no-obligation quote while looking for other air conditioner replacement options.
This whole home mini-split (heat pump) heating and cooling installation is another ductless job that stood out—simply because the client weighed the pros and cons and made the decision not to fix, or replace, the existing home's heating and air conditioning system. Another client in an Alexandria townhouse replaced their central system with a ductless system too. M.E. Flow installs many ductless mini-split systems all over Northern Virginia, and it's typically to fix a hot upstairs or cool and heat a sunroom, garage, or bonus room. It's not often, but we are seeing more whole home installs. The client replaces the presumed traditional methods of heating and cooling a home to a whole home ductless system. Once this Leesburg job was complete, the client provided some insight on his decision to go ductless. Here is what was shared:
What made you choose a ductless heating and cooling system?
What I've really liked about these systems is how they're modular, take up less space, and can hide the lines within the walls. Although setting different temps is an added plus to me, I really like how I only need to heat/cool the spaces I'm actually using and not waste energy in other rooms. And if a head unit were to go down, I would not lose the whole system. Another consideration since we have dogs is that cleaning the head units is much easier/more sanitary than cleaning out all the ducting. So, when we started looking at upgrading the home, we were looking for the possibility of a ductless mini-split.
Great information indeed! Imagine never having to clean your ductwork and having the freedom to manage the temperatures in each individual room.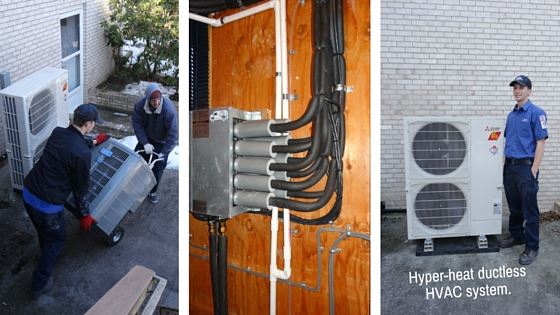 The air conditioning season will be here soon, and if your AC unit is in need of replacing, maybe it's time to investigate new heating and cooling technologies. Give M.E. Flow a call, or fill out the form on this page and schedule an in-home consultation with one of our professional technicians. Thanks for reading!
Want to read more content like this? Sign up here for our email list. Once a month, you'll receive our latest newsletter filled with quick tips and solutions to many home comfort problems. Plus, you'll be the first to hear about exciting special offers and customer promotions.
The post Ductless Mini-Split Replaces Central HVAC System appeared first on M.E. Flow.