Remodeling your home? You may want to considered installing a ductless heating and cooling system. Check out this blog post series and find out how our Leesburg client prepared his entire home during his remodel to heat and be air conditioned with no ductwork.
We recently installed a ductless mini split system for an entire home in Leesburg. Prior to the client switching over to a ductless heating and cooling system the home used electric baseboard heat. It was when their 12 year old central heating, ventilation and air conditioning (HVAC) system needed to be replaced that the homeowner started to investigate other cooling and heating technologies for the home.
After contacting M.E. Flow about installing a ductless mini-splits, the Leesburg homeowner scheduled an in-home consultation to go over his options. Dan, a trained Home Comfort Advisor at M.E. Flow, met with the client. As our client stated in his referral letter for Dan, the client stated that Dan was knowledgable and personable. "With years of technical experience, Dan is suited to explain the options, the limits, and tradeoffs of various systems and conveying the cost implications, including upfront, long term and potential savings too."
The client also stated that Dan was able to articulate about the traditional heat pump system compared to the mini-split system, which aided with their decision to move forward with the mini-split heat pump system. The new system was installed in August of 2015. The client was in the process of remodeling the home which allowed the HVAC installation team to easily run the lines in the walls from the branch box to the wall mounted units.
The pictures in this post are from the first phase of the mini-split install.
Check out our next blog post where we report the second phase of the ductless heat and air conditioning installation, and further answer the questions:
What made you choose a ductless heating and cooling system?
Why did you choose M.E. Flow to install your ductless system?
Are you looking for other options to cool and heat your Northern Virginia home? Give M.E. Flow a call and schedule your no-obligation in home consultation with one of our Professional Home Comfort Advisors.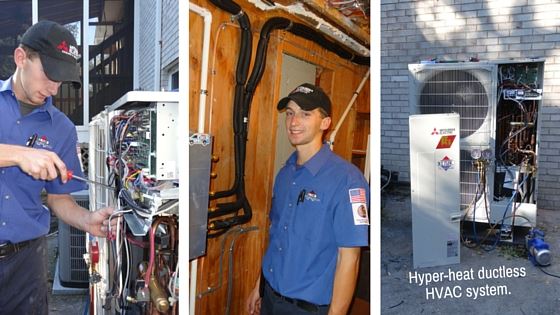 Be cool this summer and call us today! Thanks for reading.
Call today for your no-obligation ductless quote!