2023-02-07 02:21:06 pm
If You Live in Winchester or Alexandria, It May Be Time To Replace Your Old Heating System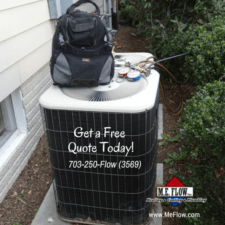 If you live in the older, historic areas of Winchester and Alexandria, Virginia, there's a good chance your heating system is aging and is no longer efficient.
If you think your heating system isn't performing as it should, or you want lower heating bills, you can benefit by replacing your old heating system.
Some signs indicate it's time to contact an HVAC contractor in the Winchester or Alexandria area to discuss replacing your heating system.
According to ENERGY STAR®, it's time to consider replacing your heating and cooling equipment if:
Your heat pump or air conditioner is over 10 years old
Some rooms in your home are too hot or too cold
Your home has humidity problems
Your home has excessive dust
Your heating or cooling system is noisy
When thinking of replacing your old heating system in your Winchester or Alexandria home, there are a few more points to consider when you contact a heating contractor:
Establish what type of heating system is best for your home. Technology has changed. Equipment has changed. HVAC has changed, too. You may have an electric heater, but it could be in your best interest to switch to natural gas. Consider the cost of the type of energy your system will use and how those prices fluctuate. For example, electricity rates are pretty standard with little fluctuation, whereas fossil fuels can vary depending on the season.
Determine what other systems have to offer. There are plenty of heating and cooling systems available. You may already be using a Rheem, Carrier, Trane, or any other brand. These brands have different features and benefits. Talk to your heating contractor to figure out what will work best for your home. HGTV advises consumers to invest in the best. By buying the highest efficiency rating possible now, you hedge your bets against the high energy prices that will come later.
Make sure it's installed correctly. Your new energy-efficient heating system must be properly installed to operate at peak performance. An improperly installed system can reduce the system's efficiency by up to 30% — costing you more on your utility bills. It's best to choose an HVAC contractor in Northern Virginia that employs NATE-certified technicians. And be sure to ask the contractor for references.
M.E. Flow employees are NATE-certified technicians, and our customers love us. If you're looking to replace your heating system, contact us for a free quote. We'll analyze your current system and your needs to provide a no-obligation estimate for your replacement system.
Don't wait until your heater breaks — contact M.E. Flow today.