Hydrate – It's Hot!
That's the message we've all heard as we survive one of the hottest Northern Virginia summers on record, as seen in this photo taken in Leesburg at the Loudoun County Volunteer Rescue Squad on Catoctin Circle. But as you drink more water you may wonder about the quality of the water. In this article, we will share with you an opportunity to find out how to get a Free Water Quality Analysis and find out what's in the water coming from your tap!
Are You Drinking Enough Water?
In case you haven't noticed, it's been hot, leaving us feeling more than a little dehydrated. Without drinking enough water, the blood in your veins thickens, your heart has to work harder, and you are left feeling fatigued and sleepy. Luckily, our body's natural response is to crave and drink more water than usual to overcome this feeling. But have you ever stopped to think about what's in all that water that you are drinking?
Well, if you only drink bottled water, you probably have nothing to be worried about. However, drinking only bottled water can get quite expensive, especially for a family, and what about all that recycling. On the other hand, if you're taking water straight from the tap, how can you be sure that the water you're drinking is 100% pure and healthy?
Do You Know What's In Your Water?
In order to help you and your family stay hydrated and healthy, the M.E. Flow Water Quality Team wants to help you understand exactly what's in your water. Iron, chlorine, and other toxins can have particular effects on your health, plumbing, and appliances over an extended period of time. This fall we are offering a Free Water Quality Analysis to all Northern Virginia home owners in our service area interested in knowing what's in their water and how it can affect them.
No need to wonder what's in your drinking water any longer. Get peace of mind—schedule your Free Water Analysis today! M.E.Flow has locations in Alexandria, Leesburg, and Winchester and our plumbing division has water quality experts covering all of Northern Virginia!
Schedule your Free Water Quality Analysis
If water quality is important to you and your family, call the water quality experts of Northern Viriginia at (571) 350-3183, contact us online, or fill out the form on this page.

M.E. Flow specializes in treating both well and city water in Northern Virginia. Thanks for reading and go with "The Flow" —Call today!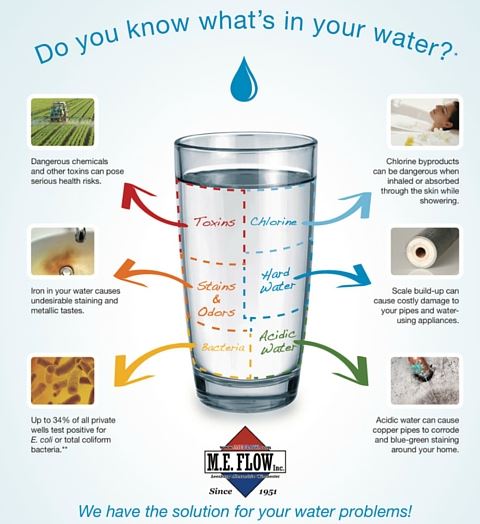 Are You Drinking Enough Water? | M.E. Flow, Inc. – Water Quality Analysis